How To Remove Duplicates In Excel Column Or Row?
Remove Duplicate Rows Using the Excel Remove Duplicates Command.
In Excel, the Remove Duplicates command can help you to remove duplicated records in a column.
The Remove Duplicates command is located in the 'Data Tools' group, within the Data tab of the Excel ribbon.
Follow the steps below:
Data Tab → Data Tools Group → Remove Duplicate Command icon

Remove duplicate rows using this command:
Select any cell within the data set that you want to remove the duplicates from, and click on the Remove Duplicates button.
You will be presented with the Remove Duplicates dialog box, as shown below: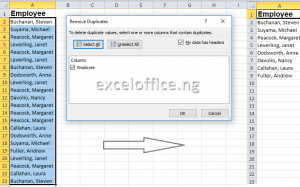 If your data contains several columns, the Remove Duplicates Warding dialog box will pop out as below screenshot shown. Please press Tab key to move the cursor on the Remove Duplicates button, and press Enter key.