How to calculate Next working/business day in Excel
To get the next working day, or next business day, you can use the WORKDAY function.
Formula
=WORKDAY(date,1,holidays)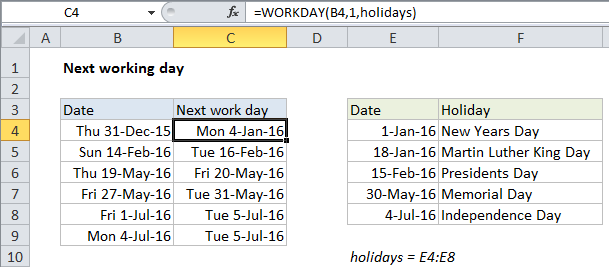 Explanation
In the example shown, the formula in C4 is:
How this formula works
The WORKDAY formula is fully automatic. Given a date and days, it will add days to the date, taking into account weekends and, optionally, holidays.
In this case, holidays are supplied as the named range holidays (E4:E8), so holidays are taken into account as well. Notice that Excel only cares about holiday dates, not holiday names.
Flexible weekends
WORKDAY defines a weekend as Saturday and Sunday. If you need more flexibility, use the WORKDAY.INTL function instead.