Excel Get decimal part of a number Example
This tutorials shows how to Get decimal part of a number in Excel.
If you need to get just de the decimal part of a number, you can use a simple formula based on the TRUNC function.
Formula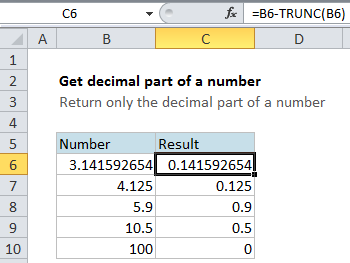 Explanation
In the example, cell C6 contains this formula:
This formula uses the TRUNC function to figure out the the integer portion of the number, then subtract that value from the original number. The result is the decimal portion.
The TRUNC function simply truncates (i.e. removes) numbers; it doesn't do any rounding.